Vinyl Oval Gazebos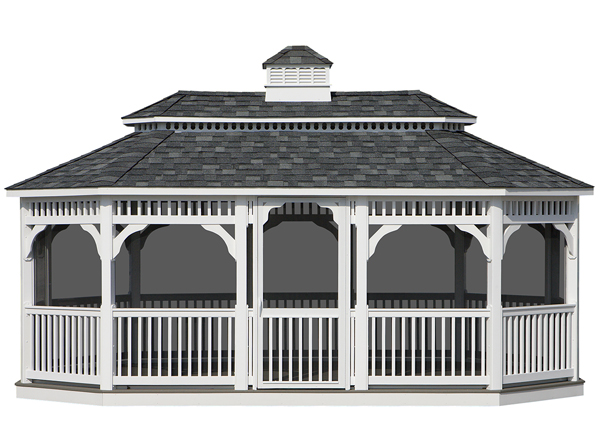 Nothing compliments a beautiful garden more than an elegant Gazebo. Crafted from premium vinyl, these extraordinary Gazebos of technical sophistication assure first day beauty season after season.
All Gazebos in this collection have an architectural asphalt roof with a working cupola. Gazebos also include beaded vinyl soffits and choice deck flooring. The classic design features spokes under the roof and straight railings. You may also add a beautiful vinyl swing to your gazebos.
Prices include free delivery within 30 mile radius of our location. Please call or email for delivery cost outside that range.
| Size | Price | Sale Price | Modular Up charge | Screens | Spindle Railing(Upper & Lower) | Scalloped Fascia & Braces | 3 Season Package | Electric Package | Double Roof |
| --- | --- | --- | --- | --- | --- | --- | --- | --- | --- |
| 8'x12′ | $6910 | $6195 | 23% | $1495 | $395 | $215 | $3525 | $389 | $1295 |
| 8'x14′ | $7550 | $6895 | 23% | $1589 | $445 | $239 | $3725 | $389 | $1395 |
| 10'x12′ | $8640 | $7495 | 23% | $1595 | $495 | $239 | $3780 | $389 | $1429 |
| 10'x14′ | $9110 | $8269 | 23% | $1695 | $545 | $259 | $4000 | $389 | $1649 |
| 10'x16′ | $9745 | $8995 | 23% | $1795 | $595 | $299 | $4205 | $389 | $1695 |
| 10'x18′ | $10840 | $9785 | 23% | $1895 | $649 | $329 | $4380 | $389 | $1849 |
| 12'x16′ | $11640 | $10425 | 24% | $1995 | $695 | $359 | $4465 | $389 | $1889 |
| 12'x18′ | $12365 | $11225 | 24% | $2095 | $749 | $389 | $4795 | $389 | $1995 |
| 12'x20′ | $13850 | $12749 | 25% | $2289 | $839 | $455 | $5149 | $389 | $2189 |
| 12'x24′ | $16210 | $14479 | 25% | $2579 | $959 | $569 | $5560 | $389 | $2569 |
Add 10% for Almond PVC in Place of White
*Electrical Package Includes -1 – Switch / 1 Outlet.
Victorian Braces available, up to 10×16 $449.00 – 10×18 – 12×16 $469.00 – 12×18 and up $539.00
Removable Post – $189.00 – Extra Outlet – $349.00 – Outside Vinyl Step (1 step) – $289.00
Prices Updated 05/2017 – All Prices Subject to Change Without Notice